Bird Solutions – About Us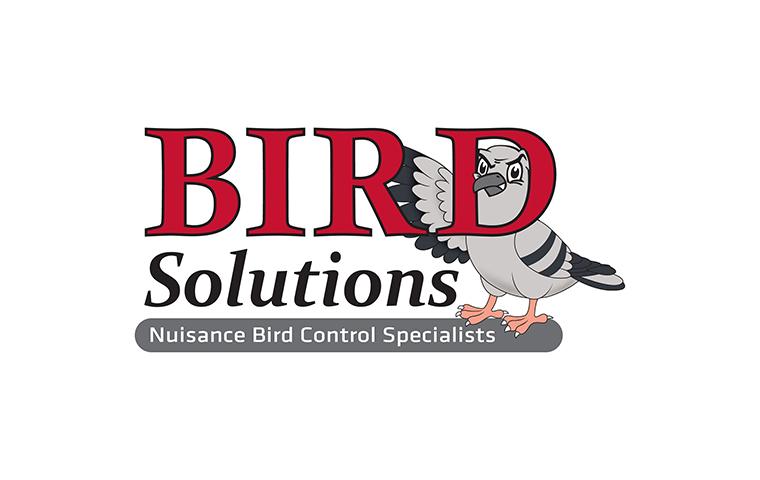 Bird Solutions, is the pigeon and pest bird control division of our parent company, Rodent Solutions Inc. Our entire staff for both divisions are trained in bird prevention methods and techniques. We have several highly trained installers so even the largest projects can be completed in a timely fashion to prevent lengthy interruptions to your day to day business. Although we may not be located near you, we travel on a regular basis throughout the state of Florida for large bird projects. We DO NOT subcontract out the work as many other pest control companies do. All of the work will be performed by an employee of our company.
Although most jobs are custom to each bird and pest control need, we have pictures available of our work for similar bird control projects once we have evaluated the needs for yours. We are highly educated in bird control solutions and go above and beyond our state licensing requirements with extra training. We are an NWCOA Certified Bird Management Operator, a Certified Installer for "Bird Barrier" as well as an Authorized Installer for Bird-B-Gone.
Keeping Problem Birds Off Your Florida Commercial Property
Birds may be nice to watch, but when they choose your business or commercial building as nesting or roosting area, they become far less pleasant. When nuisance birds (pigeons for example) spend time on or around your building, they can cause a number of problems for your business. Bird droppings are acidic and will damage your structure. Nuisance birds such as pigeons also carry over 60 types of infectious diseases and harbor over 40 different parasites which can cause serious illnesses.
From a health risk standpoint, they are, by far, the most dangerous of all the pests we deal with. Pigeons are the most common bird we receive calls about for control. Pigeons reproduce up to six times a year laying two eggs each time. Pigeons are resident birds and do not migrate so you will not get a break from pigeon issues as with some other birds. If an aggressive effort to control pigeons and their nesting isn't made quickly after the issue begins, the flock typically grows rapidly.
Keeping pigeons and other birds off your commercial property is important to prevent damage to your building, prevent risks to your employees and customers' health, and decrease the loss of revenue in the way of repairs and lost business. We provide a wide range of effective bird control solutions to prevent them from returning. Our bird control services are both effective and humane.
Species Of Birds For Which We Provide Control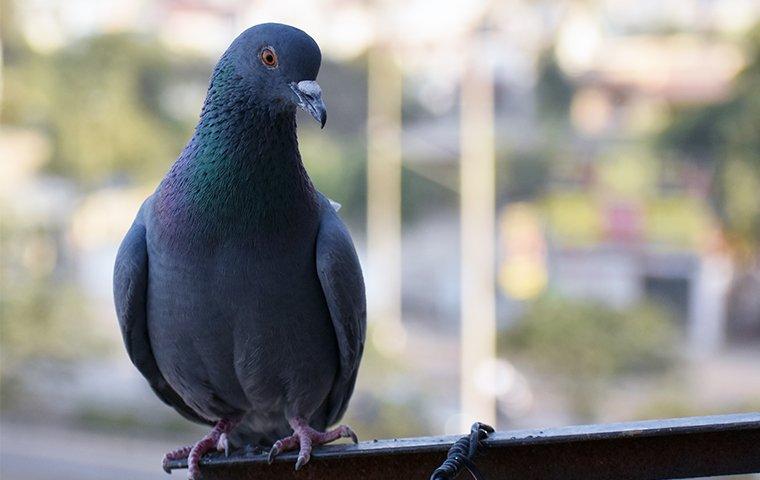 We provide bird control for the following types of birds:
Pigeons
Starlings
Crows
Geese
Grackles
Gulls
Swallows
Turkey Vultures
Woodpeckers
We are unable to provide bird control for the following protected birds:
Owls
Falcons
Pelicans
Hawks
Chimney Swifts
Eagles
Hummingbirds
Peacocks
In addition, it is important to note that we are not veterinarians or trained bird rehabilitators. We do not have the training to help birds that have been injured, caught in a net or fishing line, or are otherwise distressed. We recommend contacting your local Fish and Wildlife Commission office for help with these issues.
Our Bird Control Offerings
Inspection
We must do an inspection before providing pricing for our bird control services. The recommended actions will depend on the bird pressure (intensity of the issue) as well as the type of bird causing problems at your facility. Once those are evaluated, we can determine the best treatment option for your particular bird prevention situation. Bird control materials are very specific to each job so careful planning and measurements are needed. When there are areas that need to be inspected but are only accessible by a lift, we work with an airline pilot that also has his drone license from the FAA. This allows us to employee the drone for the inspection, without the upfront cost of a lift. This reduces the initial cost to you in order to obtain a proper inspection.
Treatment
We offer several treatment options to gain control over a pigeon or pest bird problem on your property. We'll recommend which methods will be most effective for your specific issues.
Bird netting: Our most popular pigeon and bird control method is bird netting. Bird netting has many advantages. The most important one is that bird netting is the most humane and effective method of bird control because it simply denies pigeons and other birds access to the area of concern. It is effective against all species of birds, both big & small. Another advantage is that the bird netting is almost invisible. The hardware used to support the net is also designed to be discrete so it is not offensive to customers coming to your business. Durability and longevity are other advantages of a bird net. Our bird netting is made of polyethylene, the most ultra-violet resistant material available. The UV treatment and color are embedded in the composition, not just dipped. The net is made of 6 strands that are wrapped like a rope into one strong, rot-resistant, UV protected twine. With a breaking strength of 52lbs per twisted strand, our nets are the strongest polyethylene netting available in the world. Bird netting is also waterproof so it will not gain weight and sag when it gets wet. The structure we use to support the bird net is made nearly 100% of stainless hardware for longevity to hold up in the harshest of environments. The only exceptions are copper ferrules (they are used as wire crimps & need to be flexible) and concrete anchors, which are powered coated for extended life. It is highly flame resistant and is also available in flame-proof. We can install bird netting in a variety of locations. Typically it is used in covered areas with a wood or metal truss system. Bird netting can be used in several places such as loading docks, warehouses, entryways to buildings, covered walkways, building facades, courtyards, airplane hangers, parking garages, covered gas station pump areas, roof-mounted HVAC systems, and more. We are extremely experienced installing bird nets in a variety of areas and structures. We also have experience using specialty attaching hardware for surfaces where drilling or screwing into is not an option. A common customer question with bird netting is a fear of gaining access to items such as lighting and fire sprinkler heads behind the netting. We can install net zippers to allow maintenance without having to call us to remove the net. Bird netting requires extensive training both in the classroom on hands-on.
Bird Track: We are a certified installer of Bird Track. This system works by delivering a memorable, low-voltage shock to the birds when they land in certain areas. This method does no lasting harm and prevents pigeons and other birds from returning to these areas. It is considered humane by all wildlife agencies. One of our favorite features is that it conforms to any architectural configuration and is very flexible. Bird track is a low profile electrified track making a very low visual impact. The Bird Track is less than 1/4" high and is available in 5 different UV stabilized colors. It is given a 5-year manufacturer's warranty as long as it is installed by a certified installer. Bird Track can be powered by several different types of chargers depending on your situation & preferences. Bird Track is most often used on parapets, roof peaks, beams, and ledges.
Bird wire: Bird wire is a spring tension wire system that, once installed, creates an unstable landing area for birds. Bird wire is one of the least visible of all ledge control products for pigeons and other pest birds. It is the preferred product in most situations where aesthetics are paramount. Nylon coated, spring-tensioned stainless steel wire is attached to stainless steel posts at different heights, and intervals to prevent birds from standing on ledges. The posts can be secured using mechanical fasteners or glue-on bases. There are many brackets available to install this on items such as pipes, sprinkler systems, rain gutters, railings, and I-Beams also.
Tower Guard: Tower guard is a system somewhat like bird wire, but scaled up for larger birds such as Osprey, Vultures, Gulls, Hawks, Owls, Cormorants & other large birds. It can be attached to nearly any surface with a variety of mounting options. Tower Guard is very visible so it is not the first option we look to.
Bird-coil: Bird-Coil is a system that involves the installation of stainless steel coils to prevent pigeons and other birds from landing along the edges of roofs and other locations. This is only used on rare, specific occasions.
Visual and other sensory deterrents: We offer a few different visual deterrents, including reflective holographic images and optical deterrent devices. These are often thought of as gimmick items. Some visual deterrents such as the old "plastic owl" would tend to fall into that category. However, others are much more advanced and can be very effective. Our humane, multi-sensory bird repellent dishes deter birds using sight, smell, and touch. It causes the birds to see fire deterring them from landing. The smell of the product is another strong deterrent for pigeons and other pest birds who are not as impacted by the visual aspect. Finally, for any birds who manage to shake off those two deterrents, we go after their sense of touch. If a bird comes into contact with the heavy gel product in the dish, they will immediately take flight. Pigeons and other birds are not fond of foreign textures on their feet or wings & have an extreme aversion to the gel. We also have a highly effective spinning visual deterrent that is designed particularly for woodpeckers but can be used on other smaller birds also.
Bird spikes: Bird spikes are another popular option, bird spikes can be installed in areas to prevent birds from landing. Bird spikes are rarely the proper choice and tend to be our least used option because of the smaller bird's tendency to build nests in the spikes. Bird spikes tend to be the choice of companies without proper training to use better-adapted exclusion devices. This often happens because of the simplicity of their installation.
Solar Panel Exclusions: Solar panels are being installed on roofs all over. The panels provide the perfect harborage for pigeons and other birds. We have a product specifically designed to prevent birds from under solar arrays; protecting the roof, wiring, and equipment from damage.
And More...: There are many other items at our disposal depending on the particular situation and problems the birds are creating. Contact us and we can come up with a plan for even the most unique bird prevention situation.
For your pigeon and pest bird service needs, we will travel far and wide. We provide bird services to the following Florida areas:
If you have a large project and are not in these areas, please contact us about the project to see what we can accommodate your needs. We do travel outside these areas on occasion.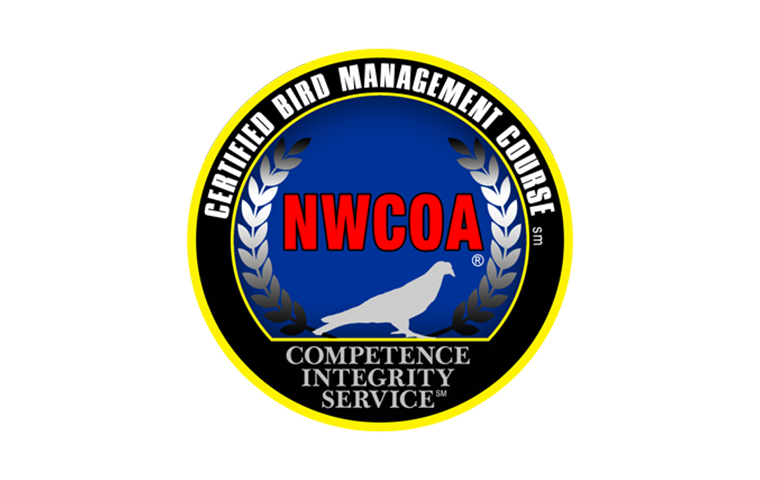 Don't Delay!
Delaying a bird control plan can lead to high cleanup costs, damage to your reputation, and brand damage! The cost to clean up pigeon and bird feces increases as more feces are there to clean up. Bird droppings can cause work stoppages at production facilities due to contamination. OSHA has deemed work areas unsafe for employees on previous projects we have been called in on. They were alerted to the issue by an unhappy group of employees who also alerted the media about the bird feces at the production facility.
Concentrated amounts of bird feces can result in a slip and fall injury.
Bird feces can cause damage to equipment, eat through paint, and stain fabrics.
Customers can track diseases into restaurants and medical facilities as they walk through bird feces.
A buildup of bird feces on rooftops near fresh air intakes can spread diseases all throughout the building via the HVAC system.
Nesting materials can cause roof drains to clog causing water backups and leaks.
Droppings in stockrooms or warehouses can lead to product damage.
The building can become infested with parasites such as bird mites – potentially requiring expensive pest control treatments.
Bird droppings can make your business look unsightly to patrons; unhappy patrons can lead to bad reviews on social media.
Common Areas For For Bird Control
Loading docks, warehouses, entryways to buildings, covered walkways, building facades, courtyards, schoolyard covered play areas, airplane hangers, parking garages, roof peaks, covered gas station pump areas, roof-mounted HVAC systems, signs, parking lot lighting, roof ledges, and more.
Say Goodbye To Unwanted Birds
Getting pesky pigeons and other pest birds to stop using your commercial facility as their home and landing zone can seem like a difficult job, but Rodent Solutions makes it easy. We have several bird control methods at our disposal, and we have the experience necessary to develop a bird control plan that works for your unique situation. If pigeons or other pest birds are causing problems at your facility, contact us today.
Learn more about our general pest control and more pest control options in Bradenton, FL.
Get Your Problem Solved Fast!
Complete the Form Below to Contact Us!