Reliable Pest Control In Holmes Beach, Florida
Holmes Beach, FL, is a great place to live, work, and visit. Life on the beach offers regular sunshine and an ongoing pleasant climate that beachgoers can depend on all year-round. These ideal conditions are very attractive to local pest populations, meaning their presence is a problem throughout the year. A pest infestation poses a number of threats to your property and those inside.
The most effective way to protect your home or business from the effects of a pest infestation is to bring in a team of qualified pest professionals. Welcome to Rodent Solutions, your go-to source for reliable residential and commercial pest control services. Since 2012, we've been servicing properties throughout Manatee County and the surrounding areas, working hard to offer the most comprehensive pest protection in the area.
With over 21 years of combined experience, our team has the knowledge and expertise to get the job done. Get in touch with us today to discuss your pest control needs, and we'll get the ball rolling.
Pest Control In Holmes Beach, FL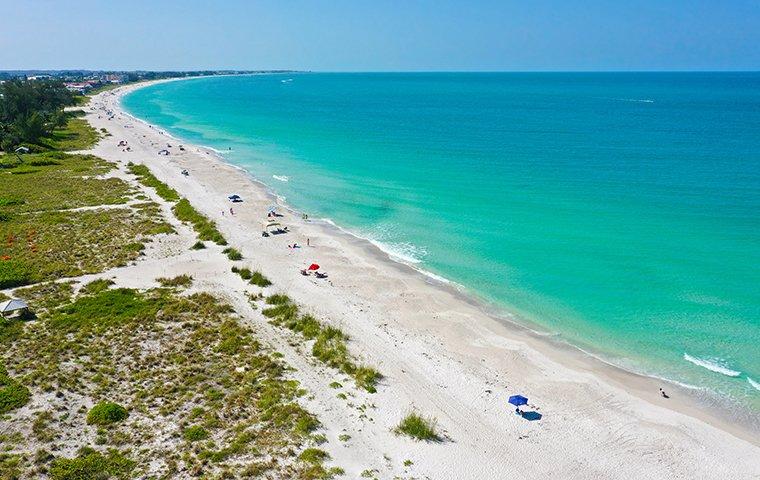 Western Florida is home to a wide variety of pests, each of them eager to get into your home or business. Professional pest protection is your best bet, and that's our specialty. Rodent Solutions offers effective pest control services that local property owners can count on all year long. Whatever kind of pest situation you're dealing with, you can count on us. We service a variety of residential and commercial properties, including restaurants, bars, medical facilities, warehouses, apartments, condos, office buildings, schools, and daycares.
From rodents, ants, and cockroaches, to pantry pests, ticks, and termites, we've got your back. We are experts in comprehensive rodent control and prevention, rodent trapping, rodent exclusions, bird control, decontamination services, feces clean up, and termite prevention services. Our regularly scheduled follow-up visits help maintain pest-free conditions on your property moving forward, and we also offer one-time services to meet your needs. Contact us to learn more.
Why Rodent Control Is Important In Holmes Beach, FL
Rodents are scary, hairy, and very unsanitary. These unwelcome intruders bring many germs into your home or business, contaminating food sources and vulnerable surfaces, and putting your health at risk. Aside from your health, you must also think about your safety.
Rodents chew on the structure of your property, gnawing away and destroying the construction over time. They also chew on electrical wiring, which puts your property at risk of catching fire. Because of these threats, rodent control is essential. These germ-ridden visitors are more dangerous than you may think, and the best protection you have is from the pest professionals. Call the team at Rodent Solutions today to schedule your initial rodent inspection and treatment.
Are Cockroaches Preventable In Holmes Beach, FL?
As cockroaches travel around your Holmes Beach property, they leave fecal droppings, shed skins, and saliva everywhere they go, causing large-scale contamination that can lead to a variety of adverse health conditions. In order to protect your health and safety, you should do all you can to prevent cockroach activity.
Consider the following tips in your cockroach prevention efforts:
Apply weatherstripping around windows and doors to prevent entry.
Keep your property clean and free of clutter, regularly sweep beneath the stove and fridge, and maintain clean household appliances.
Avoid leaving food out, pet food included, and keep your food in sealed, airtight containers.
Eliminate sources of humidity and excess moisture, install dehumidifiers in moisture-rich areas, and repair leaky pipes, faucets, and downspouts.
While these tips are certainly helpful, your best bet is still ongoing services from the pest experts. For the most comprehensive protection from cockroach infestations, call in the team at Rodent Solutions. We are experts in the accurate identification and complete extermination of cockroach activity. Our goal is to leave your property safe and free from pests, and we won't stop until we complete the job. Reach out to us today to get started.
Five Dangers Of Bat Activity In Your Holmes Beach, FL Home Or Business
Bats are hairy, winged pests that can find their way into your structure looking for shelter, food, and water. You'll find them hiding in chimneys, attics, wall voids, and crawl spaces. In these structural timbers of the house, bats create their nests, also known as 'roosts.' They prefer dark, remote areas where they can breed without interruption.
Here are five common dangers of bat activity include:
Biting and infecting people and pets with diseases
Causing widespread contamination that threatens your health
Producing droppings that contain fungi and parasites
Rapid reproduction rates that spread their populations quickly
Transmitting illnesses like rabies and histoplasmosis
Because of these dangers, it's important to avoid a bat infestation at all costs. The best way to deal with any bat activity is to contact the pest professionals. The team at Rodent Solutions is fully prepared to deal with your bat situation, whatever it may be. Give us a call today to set up your initial bat inspection and control service; we look forward to hearing from you.
Get Your Problem Solved Fast!
Complete the Form Below to Contact Us!