Reliable Pest Control In Sarasota, Florida
Located just an hour south of Tampa, the city of Sarasota has a lot of beauty to admire. This gem of a town is situated along Florida's Gulf Coast and filled with serene beaches, luxurious resorts, and all the sunshine you could dream of. Our proximity to the ocean brings us increased humidity levels, and when moisture levels rise, so do pests. That puts your Sarasota home or business at risk of experiencing a pest infestation.
If you want to protect your property from the dangers of infestations all year long, you've come to the right place. Rodent Solutions provides complete residential and commercial pest control services that Sarasota property owners can rely on. We work hard to keep the local community pest-free and protected.
No matter what kind of pest problem you're dealing with, you can count on us to help. We offer a long list of services, including rodent control and prevention in Sarasota, rodent trapping, rodent exclusion, general pest control, bird control, termite prevention, decontamination, and feces clean up. Give us a call today to discuss your pest control needs.
Pest Control In Sarasota, FL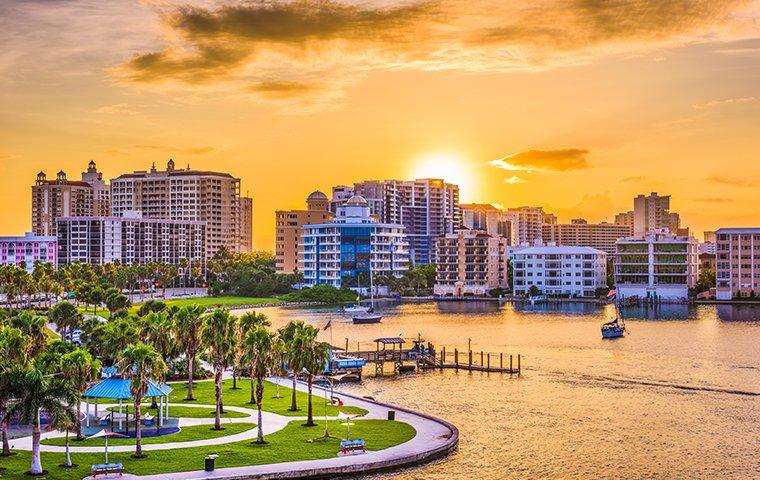 Pest Activity is a year-round concern here in Sarasota. While searching for food, water, and shelter, these intruders can enter your house in droves and multiply at rapid rates, causing an infestation that can be hard to control. A pest infestation presents a number of dangers to your property and those inside, and that's why we highly recommend ongoing services from the pest experts here at Rodent Solutions.
Our experienced service technicians use trusted IPM (integrated pest management) solutions to identify, target, and eliminate pests from the premises, guaranteed. From exclusion and traps to decontamination services, we do everything we can to prevent pests from returning in the future. Whether you're seeking ongoing services or just a one-time service, give us a call today. We're here to help, no matter the nature of your pest situation.
The Dangers Of Rodent Activity On Your Sarasota, FL Property
Mice, rats, and other rodents are dangerous nuisance pests that, when inside your home or business, wreak havoc. Some serious consequences can result from a rodent infestation, and property owners need to be aware of them.
Here are some dangers a rodent infestation brings to keep in mind:
Contaminated insulation
Exposure to rabies and other diseases
Gnawed electrical wiring
Leave trail droppings of excrement
Rapid breeding and spreading of the infestation
Scampering inside of wall voids
Serious structural damage
Weakened construction
Widespread contamination
Obviously, these consequences can be quite serious. If you want to avoid these issues effectively, the best thing you can do is secure professional pest protection. Rodent Solutions offers reliable rodent control and prevention services that provide you with year-round protection from these dangerous intruders. Call us today to schedule your initial inspection.
Why Bat Removal Is Important For Your Sarasota, FL Property
The idea of bats flying around in the attic is very upsetting. Not only is it disturbing to think about, but some very real dangers come with having bat activity in your home or business. These pests hide in attics, chimneys, walls voids, and crawl spaces. They create their nests in dark, remote areas to give birth to their young in peace.
One of the dangers that you should be aware of when it comes to a bat infestation is the fact that they bite. When they bite, they can infect people and pets with a variety of diseases. Because bat bites can go undetected for very long periods, you could be exposed to a variety of illnesses without even knowing it. They can transmit rabies and histoplasmosis. They also cause widespread contamination by producing droppings and leaving them all over the property.
Contact the team at Rodent Solutions today to discuss your bat removal options; we're here to help.
Ten Helpful Tips For Avoiding Termite Damage In Sarasota, FL
If you want to protect your Sarasota property from the detriments of termite damage, you can take a few preventative measures. It's important to be proactive in your termite control efforts.
Here are ten tips that can help deter termites from your property, protecting your home or business from a termite infestation nightmare:
Apply loose mortar or weatherstripping around all your windows and doors.
Eliminate any wood to soil contact.
Eliminate excess moisture around the entire property.
Fix rotten areas of the roof to prevent entry.
Get rid of any rotting or moisture-damaged wood.
Inspect all wood before bringing it inside.
Install a dehumidifier in moisture-rich areas of the house.
Put vent fans in kitchens, bathrooms, and laundry rooms.
Repair downspouts to extend further away from your home.
Store wood away from the perimeter of your house.
While these are all helpful suggestions, none are 100% guaranteed. The most effective approach when it comes to termite control is to bring in the professionals. The team at Rodent Solutions has the experience needed to provide comprehensive termite control solutions that promise lasting protection for your property. Reach out to us today to hear more about our service options.
Get Your Problem Solved Fast!
Complete the Form Below to Contact Us!